Best Babymoon Trip : Santa Barbara
We marked Santa Barbara as #1 Babymoon Destination in our Best Babymoon Destinations feature. And we would love to share with you why we think Santa Barbara is our Best Babymoon Trip.
What to Expect ?
Santa Barbara lies 92 miles (148 km) north of Los Angeles and 332 miles (534 km) south of San Francisco and is famous for its beautiful beaches.
Great for Pregnant Women
Pedestrian-friendly, easy-to-get-around, great architecture, surrounded by beautiful mountains, miles of beautiful beaches, five star hotels and outstanding restaurants.
What also makes Santa Barbara the best babymoon trip is the pampering babymoon package at Belmond El Encanto.
The Santa Barbara Babymoon Package includes :
Luxury Accommodation
A $60 daily breakfast credit per room
Welcome Mocktail
Maternity Massage
Maternity Pillow
Sweet and Savory Turndown Amenity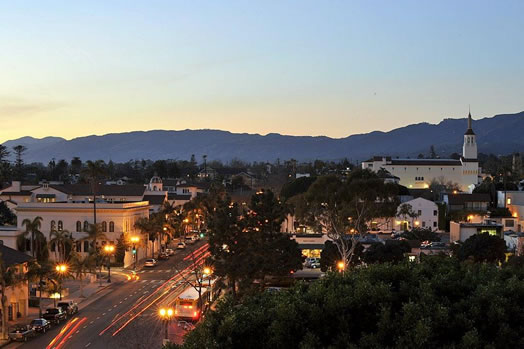 Our Top 5 of Santa Barbara Babymoon Activities for Expecting Couples
Unfurl your seafaring spirit with a sunset cruise departing from the Santa Barbara Harbor and spark some romance by cozying up to your partner as you watch the majestic Santa Barbara sunset.
Hop on a Santa Barbara Trolley and enjoy a 90-minute narrated tour of the city. Highlights include the Old Mission Santa Barbara, the Santa Barbara County Courthouse, the Moreton Bay Fig Tree, Butterfly Beach and more. The trolley departs every hour on the hour, 10 a.m. to 4 p.m. from the Visitors Center on the corner of Cabrillo Boulevard and Garden Street.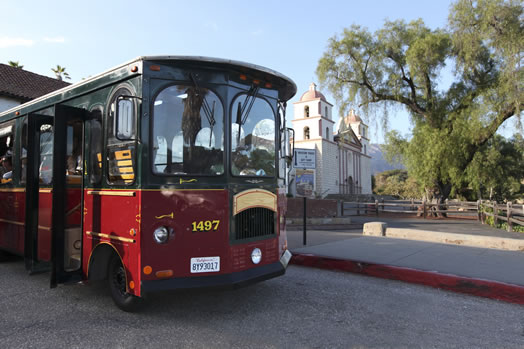 3. Pre-Birth Shopping
Stock up on baby's outfits at two of Santa Barbara's locally-owned baby boutiques.

Chicken Little, the Santa Barbara "community store" since 1979, features furnishings, clothing, toys and more. The proud owners, Jennifer and Gregory Bouma, love helping customers – especially first time parents! 1236 State Street, Santa Barbara
Mon Petite Bijou, with a large crystal chandelier and French confidante sofa (a perfect spot for dads to relax), customers of Mon Petite Bijou feel they are shopping in a European boutique. The back of the store features an English garden patio with a fantastic Victorian Mansion playhouse with everything a child would want! 1014 State Street, Santa Barbara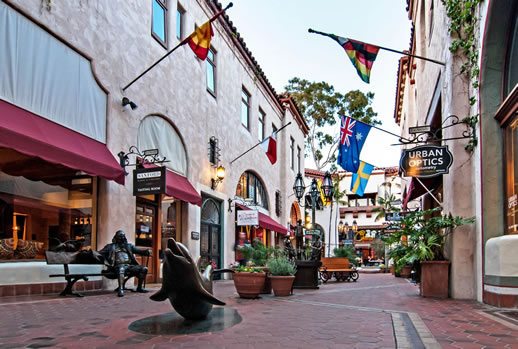 4. Pregnancy Cravings
Don't forget to take a well deserved pregnant pause at one of these delicious shops and treat yourselves with some sweet treats.
*Lilac Pâtisserie is one of Santa Barbara's first eateries to go gluten-free. Owners Gillian and Alan Muralles, have worked in some of the most well-known bakeries in Southern California and now bring their charming and delicious gluten-free cakes, pies, cookies and more to The American Riviera®. But don't let the "gluten-free" label fool you, Lilac Pâtisserie's creations are extremely tasty, made for both the gluten consumer and gluten abstainer to enjoy! 1017 State Street, Santa Barbara
* Or shop online at Santa Barbara Chocolate, the online destination for chocolate lovers across the globe, home of premium chocolate. Enjoy a one stop shop for the freshest and highest quality chocolate on the market. TIP ! Order your favorite Santa Barbara Chocolate ® box to your hotel in Santa Barbara.
*Chocolate Maya, chocolate bar at 15 West Gutierrez Street, Santa Barbara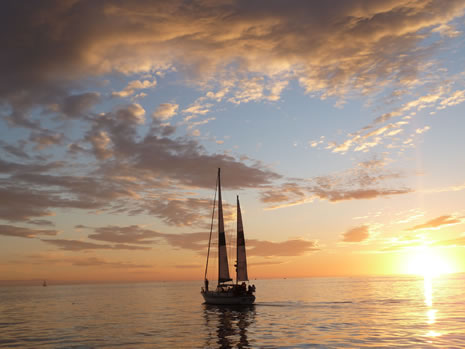 5. Enjoy the scenery
Santa Barbara's natural landscapes are filled with extravagant, wild beauty. Go for a walk along the palm-lined Cabrillo Boulevard and take in the sweeping views between the Pacific Ocean and majestic Santa Ynez Mountains. Or choose visiting Shoreline Park, which also boasts wonderful views of the ocean, the mountains and the islands and most importantly, it has lots of park benches for resting!
Built in the 1920s by famed architect Myron Hunt, La Arcada Court is a charming, stroll-able outdoor shopping plaza with tile-lined pathways. In true Santa Barbara style, La Arcada boasts sidewalk cafés, boutiques, a classic barber shop and whimsical sculptures – all within a beautiful Spanish paseo. Kids (and the young at heart) should head straight to the courtyard fountain, for a close-up view of turtles.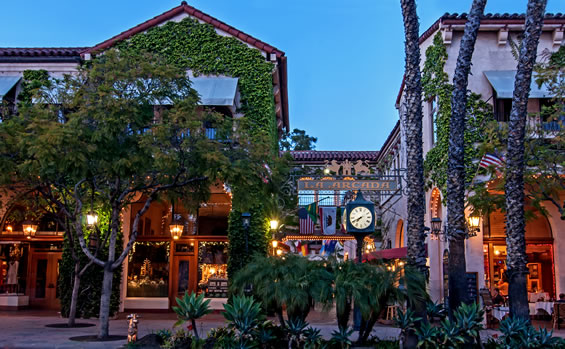 For more information, visit Santa Barbara's website at
SantaBarbaraCA.com
Or stop by at the Tourist Office of Santa Barbara
1 Garden Street
Santa Barbara CA 93101
OPEN DAILY
Distances from Santa Barbara to :
Hearst Castle  118 miles /189 km
Universal Studios  85 miles /136 km
Disneyland 110 miles /176 km
Hollywood 89 miles /142 km
LAX 92 miles /148 km
San Diego 228 miles /367 km
San Francisco  332 miles /534 km