---
Babymoons in the Americas
Treat yourself to a luxurious babymoon getaway before your baby arrives. Celebrate your pregnancy with one of our babymoons!
Pamper yourself with prenatal spa treatments specially designed for pregnant women. Enjoy tailor-made babymoon packages which can include:
unlimited complimentary in-room movies
late check-out
cravings bag
foodie treats
cigars and sports massages for dad-to-be
pregnancy photo shoots
nursery tile classes
breathing classes
yoga sessions
pregnancy massage
non-alcoholic cocktails (Mocktail, Please)
or go on a pre-natal shopping spree with a personal shopper to show you all the beautiful baby boutiques
What is the safest time to travel?
According to the American College of Obstetricians and Gynaecologists, the safest time for a pregnant woman to travel is during the second trimester (18 through 24 weeks). Check out our Q&A about everything you need to know about Babymoons!
Tips for Babymoons?
Skin is more sensitive during pregnancy, so wear stronger sunscreen than usual.
Keep a list of names and numbers to be contacted in case of emergency.
Keep a list of local hospitals from the embassy or tourist board.
Ask your doctor before embarking on any "dangerous" sports, such as diving or water sports.
Bring your medical notes, including relevant ultrasounds, with you in case you need to go into the hospital or deliver early.
You're on the ground. Relax and enjoy yourself on what could be your last diaper-free break for a while.
Quick Tips for Healthy Air Travel While Pregnant
Travel with at least one companion who also has your emergency contact info in addition to your doctor's number programmed into their phone.
Carry documentation with your expected date of delivery, doctor's contact info, and your blood type.
Stay hydrated. Dehydration on airplanes can be worse when you're pregnant, so drink plenty of caffeine-free, non-alcoholic fluids before, during, and after the flight.
Wear your seatbelt continuously to minimize the risk of injury from unpredictable turbulence.
Pack vitamin-rich fresh fruit such as grapes, plums, oranges, or dried apricots.
Wear support hose and shoes with adjustable straps in case your feet swell.
As always with flying, get up and walk around the cabin every two hours or so.
Take an eye mask and earplugs and wear loose, comfortable clothing.
Rest as much as possible while in the air.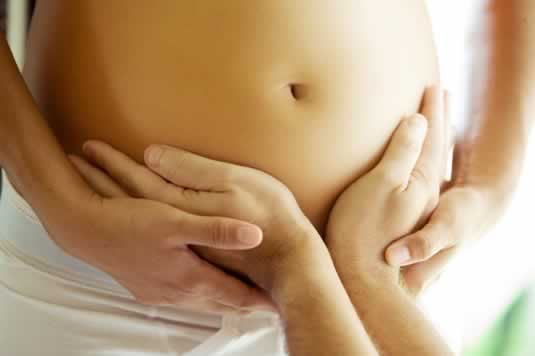 Want to make any direct hotel bookings?