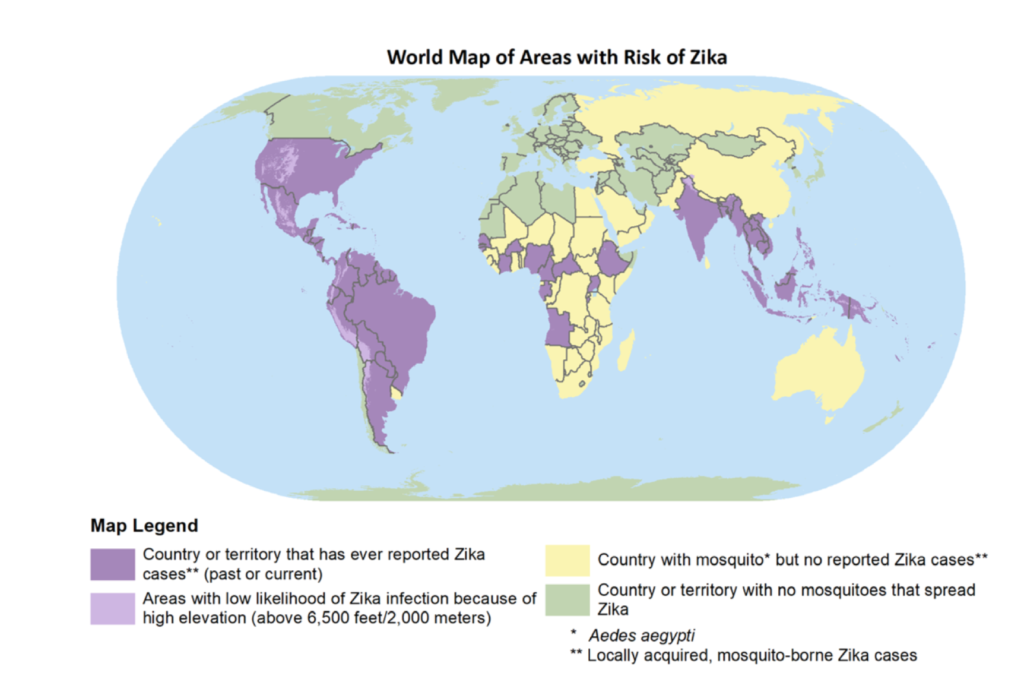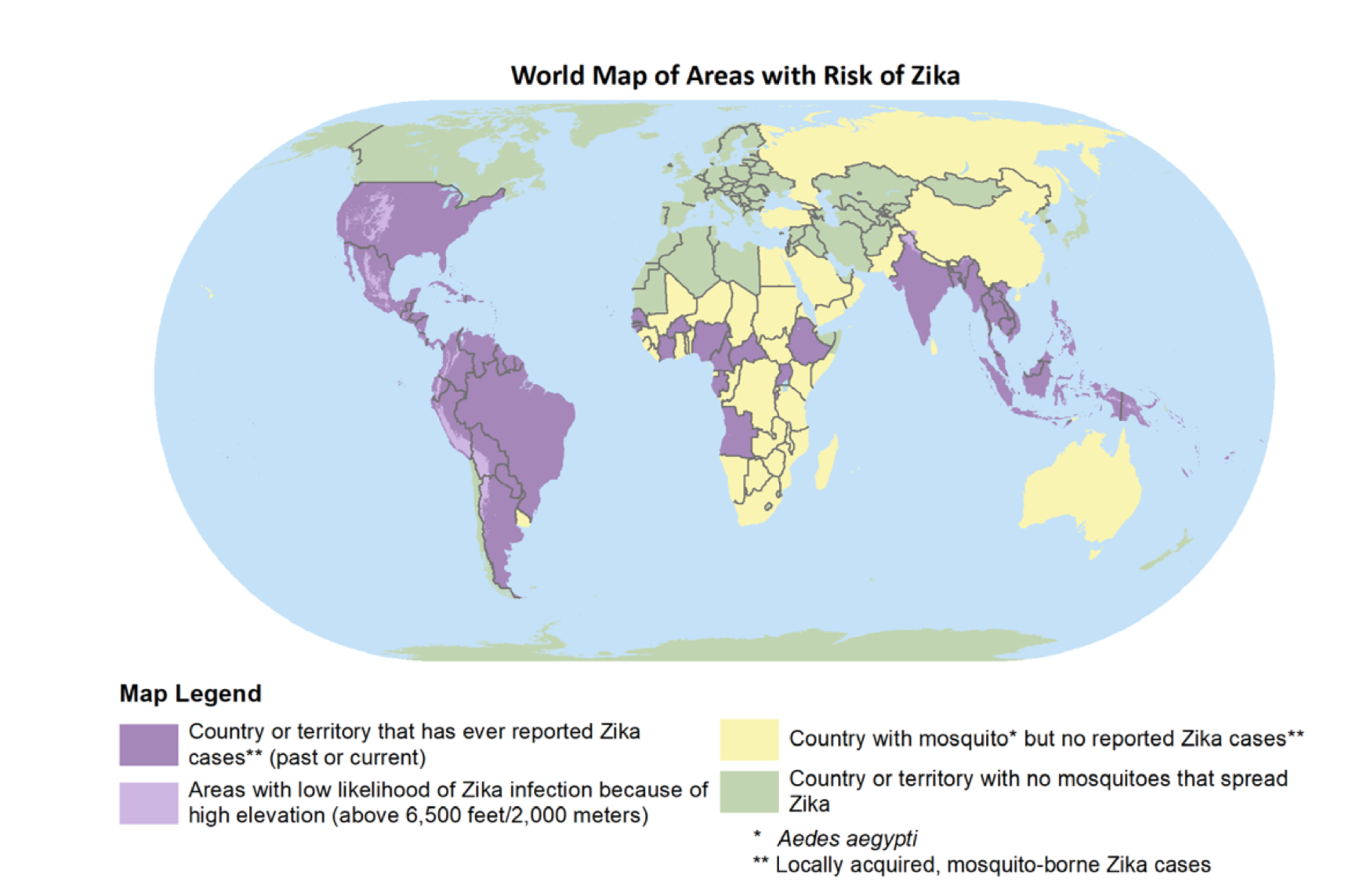 Babymoons and the Zika Virus
Pregnant Travellers
The safety of you and your baby always comes first. Therefore avoid travelling to areas where malaria and yellow fever occurs (yellow fever – Central South America and parts of equatorial Africa).
For detailed information about vaccination during pregnancy, we would like to refer to the website of Center for Disease Control and Prevention (Department of Health and Human Services – USA).
View related travel health information of your travel destination
http://wwwnc.cdc.gov/travel/
Detailed information about planning a healthy pregnancy and travelling while pregnant (including vaccination information)
http://wwwnc.cdc.gov/travel/yellowbook/2010/chapter-8/traveling-while-pregnant.htm
UPDATE: April 24th of 2019
I am pregnant. How will Zika virus affect me or my unborn baby?
Because Zika infection during pregnancy can cause severe birth defects, pregnant women should not travel to the areas below. Partners of pregnant women and couples considering pregnancy should know the risks to pregnancy and take prevention steps. All travellers should strictly follow steps to prevent mosquito bites and prevent sexual transmission during and after the trip.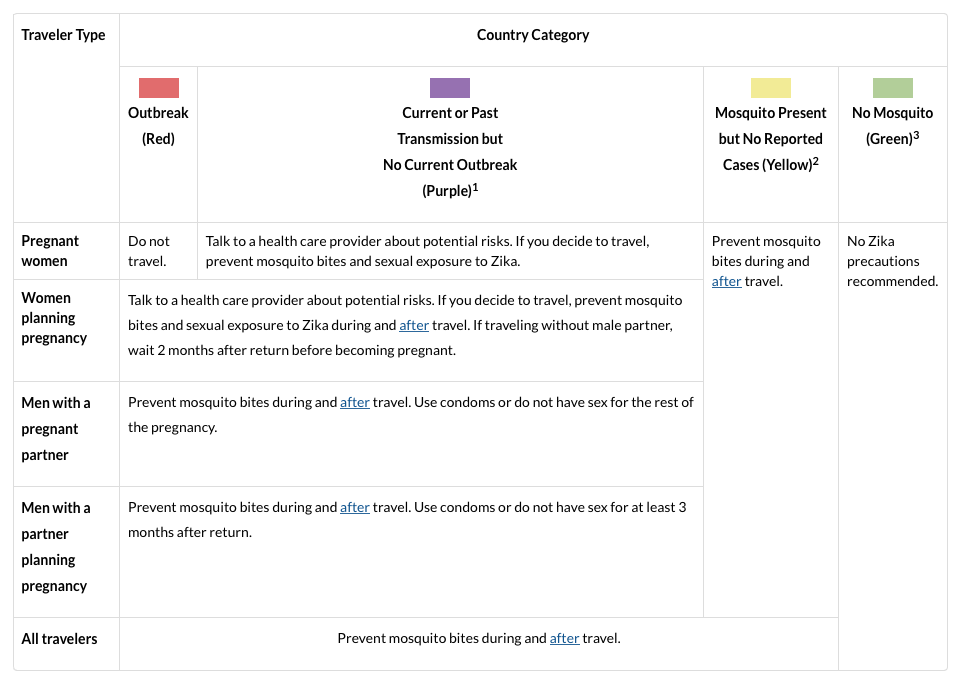 1These countries have a potential risk of Zika, but we do not have accurate information on the current level of risk. As a result, detection and reporting of new outbreaks may be delayed.
2Because Aedes aegypti mosquitoes (the mosquitoes that most commonly spreads Zika) are present in these countries, Zika has the potential to be present, along with other mosquito-borne infections. Detection and reporting of cases and outbreaks may be delayed.
3No Aedes aegypti mosquitoes (the mosquitoes that most commonly spreads Zika) have been reported in these countries. However, other Aedes species mosquitoes have been known to spread Zika, and these may be present.
Areas with Zika outbreaks (red areas): none
Areas with current or past transmission but no Zika outbreak (purple areas): American Samoa, Angola, Anguilla, Antigua and Barbuda, Argentina, Aruba, Bahamas, Bangladesh, Barbados, Belize, Bolivia, Bonaire, Brazil, British Virgin Islands, Burkina Faso, Burma, Burundi, Cambodia, Cameroon, Cape Verde, Cayman Islands, Central African Republic, Colombia, Cook Islands, Costa Rica, Cuba, Curacao, Dominica, Dominican Republic, Easter Island, Ecuador, El Salvador, Ethiopia, Federated States of Micronesia, Fiji, French Guiana, French Polynesia, Gabon, Grenada, Guadeloupe, Guatemala, Guinea-Bissau, Guyana, Haiti, Honduras, India, Indonesia, Ivory Coast, Jamaica, Laos, Malaysia, Maldives, Marshall Islands, Martinique, Mexico, Montserrat, New Caledonia, Nicaragua, Nigeria, Palau, Panama, Papua New Guinea, Paraguay, Peru, Philippines, Puerto Rico, Saba, Saint Barthelemy, Saint Kitts and Nevis, Saint Lucia, Saint Martin, Saint Vincent and the Grenadines, Samoa, Senegal, Singapore, Sint Eustatius, Sint Maarten, Solomon Islands, Suriname, Thailand, Tonga, Trinidad and Tobago, Turks and Caicos, Uganda, United States (Continental US), United States Virgin Islands, Vanuatu, Venezuela, Vietnam
Areas with mosquitoes but no reported Zika cases (yellow areas): Australia, Benin, Bhutan, Botswana, Brunei, Chad, China, Christmas Island, Congo, Democratic Republic of Congo, Djibouti, East Timor, Egypt, Equatorial Guinea, Eritrea, Georgia, Ghana, Guam, Guinea, Kenya, Kiribati, Liberia, Madagascar, Madeira Islands, Malawi, Mali, Mozambique, Namibia, Nauru, Nepal, Niger, Niue, Northern Mariana Islands, Oman, Pakistan, Russia, Rwanda, Saudi Arabia, Sierra Leone, Somalia, South Africa, South Sudan, Sri Lanka, Sudan, Taiwan, Tanzania, The Gambia, Togo, Tokelau, Turkey, Tuvalu, Uruguay, Wallis and Futuna, Yemen, Zambia, Zimbabwe
Areas with no mosquitoes that spread Zika (green areas): Afghanistan, Albania, Algeria, Andorra, Armenia, Austria, Azerbaijan, Azores, Bahrain, Belarus, Belgium, Bermuda, Bosnia and Herzegovina, British Indian Ocean Territory, Bulgaria, Canada, Canary Islands, Chile, Cocos Islands, Comoros, Corsica, Croatia, Crozet Islands, Cyprus, Czech Republic, Denmark, Estonia, Eswatini, Falkland Islands, Faroe Islands, Finland, France, Germany, Gibraltar, Greece, Greenland, Guernsey, Hong Kong, Hungary, Iceland, Iran, Iraq, Ireland, Isle of Man, Israel, Italy, Japan, Jersey, Jordan, Kazakhstan, Kerguelen Islands, Kosovo, Kuwait, Kyrgyzstan, Latvia, Lebanon, Lesotho, Libya, Liechtenstein, Lithuania, Luxembourg, Macau, Macedonia, Malta, Mauritania, Mauritius, Mayotte, Moldova, Monaco, Mongolia, Montenegro, Morocco, Netherlands, New Zealand, Norfolk Island, North Korea, Norway, Pitcairn Islands, Poland, Portugal, Qatar, Reunion, Romania, Saint Helena, Saint Paul and New Amsterdam Islands, Saint Pierre and Miquelon, San Marino, São Tomé and Principe, Serbia, Seychelles, Slovakia, Slovenia, South Georgia and the South Sandwich Islands, South Korea, Spain, Sweden, Switzerland, Syria, Tajikistan, Tunisia, Turkmenistan, Ukraine, United Arab Emirates, United Kingdom, Uzbekistan, Vatican City, Wake Island, Western Sahara
Areas with Interrupted Transmission
Zika was previously found in the locations on this list, but scientists have determined the virus is no longer present. This means all travellers, including pregnant women, can visit these destinations with no known risk of getting Zika from mosquitoes. If Zika returns to a country or territory on this list, CDC will remove it from the list and post updated information. Check the CDC page for the most up-to-date information before making travel plans.
| | |
| --- | --- |
| Area | Date of interruption |
| American Samoa | 4/13/2017 |
| The Bahamas | 2/2/2018 |
| Cayman Islands | 7/20/2017 |
| Cook Islands | 3/10/2017 |
| Guadeloupe | 6/29/2017 |
| French Polynesia | 3/10/2017 |
| Isla de Pascua, Chile | 3/10/2017 |
| Marshall Islands | 1/9/2018 |
| Martinique | 6/29/2017 |
| Micronesia | 11/23/2017 |
| New Caledonia | 3/10/2017 |
| Palau | 11/23/2017 |
| Saint Barthélemy | 5/24/2017 |
| Vanuatu | 3/10/2017 |
Zika and Pregnancy: CDC.gov
CDC recommends special precautions for pregnant women to protect themselves from Zika virus infection.
Pregnant Women Should Not Travel to an Area with Risk of Zika
Pregnant women should not travel to areas with risk of Zika (i.e., with documented or likely Zika virus transmission).
In 2018, no local mosquito-borne Zika virus transmission has been reported in the continental United States.
What to Do If You Live In or Travel to an Area with Risk of Zika
If you live in or must travel to one of these areas, talk to your doctor or other healthcare provider first and strictly follow steps to prevent mosquito bites and practice safe sex.
During travel or while living in an area with risk of Zika
After travel
Talk to a doctor or other healthcare provider after travel to an area with risk of Zika.
If you develop a fever with a rash, headache, joint pain, red eyes, or muscle pain talk to your doctor immediately and tell him or her about your travel.
Take steps to prevent mosquito bites for 3 weeks after returning.
Take steps to prevent passing Zika through sex by using condoms from start to finish every time you have sex (oral, vaginal, or anal) or by not having sex.