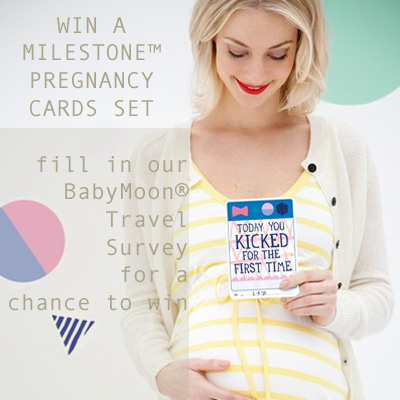 BabyMoon Survey
To better understand your wishes, we would like to ask a brief moment of your time to fill in our BabyMoon® Travel Survey. Through completing this Survey you will provide us with useful feedback to help us further improve the Babymoon concept.
Your response is highly appreciated and therefore we will give-a-way the Milestone™ Pregnancy Cards Set.
30 photo cards to capture the miracle of your pregnancy and the first weeks of your newborn baby. Our award winning set that expecting parents can use to capture their pregnancy and first weeks of their newborn baby. From the first pregnancy test, the first kick, the growing belly, pregnancy cravings and the baby's room to the first outfit, presents and cards and favorite toy. The set also includes two cards to make a hand and footprint. All those moments and highlights too precious to ever forget.
Details :
Don't let special moments become distant memories

Make your pregnancy unforgettable for yourself and your little one

Simply fill in the date and take a picture together with the card to create a lasting memory

This set contains 30 cards to mark your pregnancy and newborn pictures, each one beautifully illustrated

Milestone Baby Cards are produced in the Netherlands. Printed on FSC certified paper using Vega-Fast ink: an ink based on vegetable oils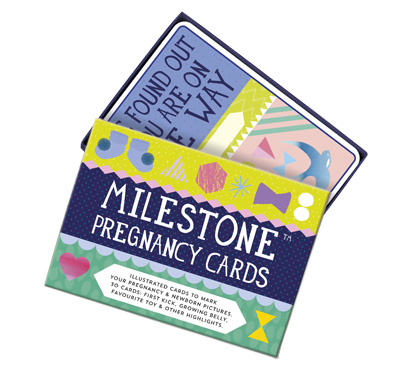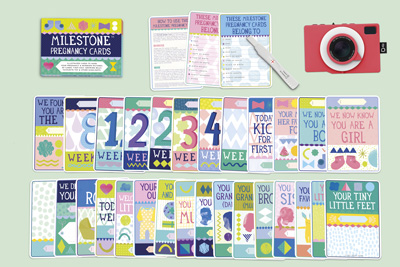 You can also fill in this survey at our facebook page :