Halkidiki Babymoon Offer

Luxury Villa Accommodations of your choice
Welcome Package with fresh fruits
A Pre-Birth Gift for the Baby
Extra Pillows for expectant mum's comfort
A cigar for Dad-to-Be to save for the Big Day!
Mum-to-Be SPA Package :Relaxing Massage
Facial Treatment
GET A NON-BINDING PRICE QUOTE
directly from the hotel

choose your travel dates to receive babymoon offer rates
---
Celebrate your Pregnancy with a Halkidiki Babymoon filled with special amenities for mum-to-be
Terms & Conditions
valid year-round
a minimum stay of 5 nights is required

Q&A
About the Hotel
This luxurious Halkidiki retreat is located in the most cosmopolitan peninsula of Halkidiki, far enough from the crowds but close enough to the village and the beach. Sunny Villas and Spa consists of 11 newly build luxurious villas nestled on top of a hill overlooking the village of Hanioti.
Sunny Villas and Spa features a bar, a small gym, Beauty & Spa facilities with a wide variety of programs to suit your needs, an indoor seawater heated pool and a sauna.
The trained staff takes care of your every need in order to enjoy hotel services with the comfort of your private villa, all with swimming pools and some with heated outdoor swimming pools.
---
ACCOMMODATIONS
The 11 villas are fully equipped to cover your every need in order for you to relax and rest during your babymoon. Each and every one of the villas is decorated and furnished in a totally unique and modern way. They vary in size and capacity so they can accommodate the needs of a single couple to a whole family.
Every villa has a private pool and whirlpool where you can relax with and dream about the baby.
Two of the villas are equipped with an indoor whirlpool. The SPA villa is equipped with an extra indoor whirlpool and a sauna.
Sunny Villas and Spa features four types of Villas: Grande Villa, Two Bedroom Villa, SPA Villa and Exclusive Villas.
NEW – OUTDOOR HEATED SWIMMING POOLS
The outdoor heated swimming pools are open for the Grande villa and three – 2-bedroom villas.
SPA
In the Beauty & Spa of Sunny Villas and Spa, you will discover an oasis of harmony and rejuvenation for your body and soul.
In the high-end facilities, you can enjoy a wide variety of services that are designed especially to provide you with the ultimate sensation of relaxation and well-being.
Seawater pool ( with no chemicals ) for sea therapy
Sauna
Gym (personal trainer available upon request)
BAR
At the Bar, you can find a large variety of beverages and many different snacks such as club sandwich, salmon sandwich, chicken nuggets, fresh salads etc. Too tired to walk down to the bar ? not a problem just dial 100 from the phone in your villa place your order. Enjoy hotel service in the comfort of your own villa.
GETTING THERE
The nearest airport is Thessaloniki Airport (code = SKG). Direct flights are available from London to Thessaloniki and take approx. 3 hours.
Sunny Villas and Spa is approx. 100 km away from the airport of Thessaloniki.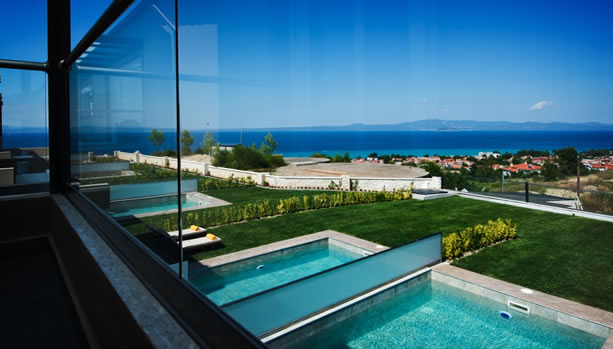 Sunny Villas & Spa
Haniotis, Halkidiki
+30 6945796792