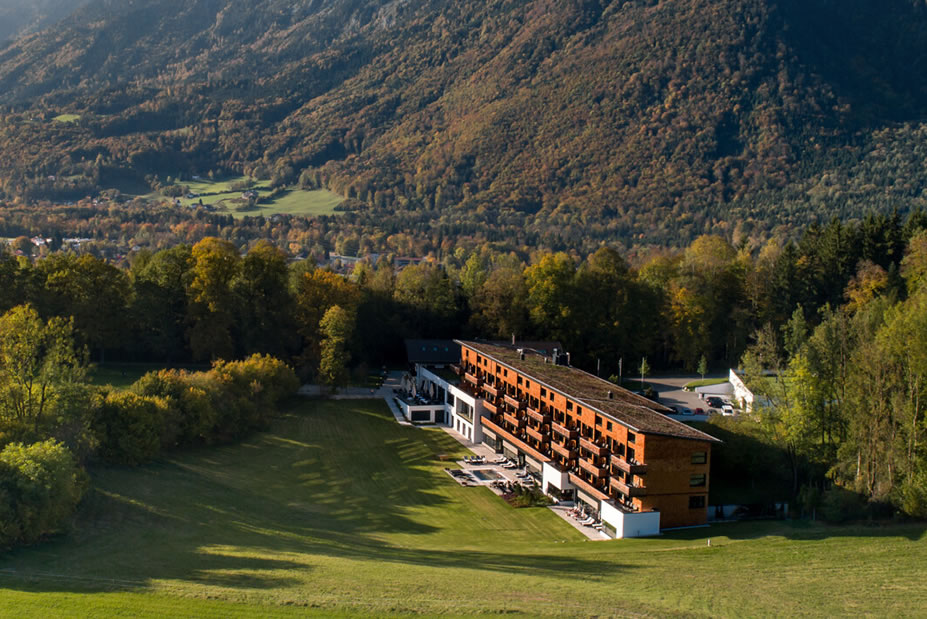 Berchtesgaden Land Babymoon Offer

3 nights in the room category of your choice
Indulgent breakfast buffet
Healthy Lunch Bowl buffet from 2:00-4:00 pm
Daily GenussArt dinner menu with your choice of dishes
Pregnancy spa and wellness with all Klosterhof included amenities, such as access to our Artemacur Spa including spa basket, gym, and Wi-Fi
Participation in the Klosterhof activity program with exercise courses, yoga, concerts, cultural talks, and readings
One 50-minute massage per person: we are happy to offer special pregnancy massages for moms-to-be
Romantic time for two with floating in the Alpine Soledom
Free parking space
*Klosterhof tip: Treat yourself to something truly special – book our Spa Loft with private hot tub!
Rates & Benefits are subject to change and availability at any time.
3 Nights Babymoon Package starting from € 591 per person
Why Book With Us?
GET A NON-BINDING PRICE QUOTE
directly from our Luxury Travel Consultant at 360 Private Travel

choose your travel dates to receive babymoon offer rates

Klosterhof - Alpine Hideaway & Spa
---
Celebrate your Pregnancy and get some pampered timeout with a true wellness babymoon
Terms & Conditions
valid year-round
a massage chair is available, especially for expectant mothers or you can alternatively choose  a massage in a lateral position or a lymphatic drainage – everything that will do mummy good in the future


Q&A
About the Hotel
After a one-and-a-half-year of reconstruction, the historic Klosterhof in Bad Reichenhall, Bavaria (close to Salzburg) was reopened as a luxurious Premium Hotel & Health Resort in 2016.
65 Panorama Rooms with stunning mountain views, Spa Lofts with exclusive private whirlpool, the 1500 sqm Spa with its own health center, a new culinary concept "New Alpine Pleasures" in different taste variations, as well as the artwork and design reflected in each corner and every room of the hotel await you at the romantic ****S design hotel Klosterhof.
---
The time of pregnancy is something special for every woman – always exciting and sometimes exhausting. To recharge your batteries for the birth and the upcoming baby time, to let go with a special massage, and to enjoy the feeling of lightness while floating, expectant mothers can enjoy the Babymoon in the Hotel Klosterhof.

Deeply relaxed and culinary spoiled – of course, our kitchen follows the dietary rules for pregnant women – baby in the belly and parents-to-be are all happy.
Accommodations
Klosterhof features 65 rooms of which five room types include the Spa Loft, Suite, Panorama Room, Zirben Room, and Nature Room.
BABYMOON TIP: Spa Loft Suite
Every corner of the large Spa Loft Suite will delight you. While you enjoy your spa ritual in a very private atmosphere, the surrounding mountain world is within easy reach, with its untouched nature drawing you in.
Approx. 70 m², spread across two floors with a large private spa gallery, unobstructed view of the mountains in their splendor, large south-facing balcony
Large spa gallery incl. a private whirlpool with a panoramic view of the great outdoors, infrared cabin, and personal spa ritual area.
The five-meter loft ceilings make the close connection of the Klosterhof to its natural surroundings and its exquisite location particularly tangible. A view that imparts the beauty of nature without words and awakens one emotion in particular: delight.
The Artemacur Spa
Use of Artemacur SPA:
1,500 m² spa landscape with a unique fireplace pool (spacious indoor pool 16.5 m x 4.5 m with a relaxation zone around the fireplace)
panoramic terrace
spacious sauna area featuring a bio sauna, a Finnish sauna, and a Turkish hammam
fireplace lounge
professionally equipped fitness area
Alpine Sole Dome (saline floatation pool)
Yoga lessons
Dining
Native cuisine is reinterpreted creatively and innovatively, using regional ingredients of the best quality, featuring the freshness of the Alps and remaining deeply rooted in the local natural environment –"New Alpine Pleasures".Discover traditional dishes, refined by harmonizing herbs and essences.
The Klosterhofstuben
The traditional rooms of the Zenostuben and the Hallgrafenstuben with their terrace remain the à la carte restaurant Klosterhofstuben and continue to be what they have always been for many: the most beautiful place to enjoy outstanding cuisine in the Reichenhall Valley.
The GenussArt Hotel Restaurant
At the GenussArt, hotel guests are offered a 4-course dinner menu with options to choose from, providing the best in cuisine in elegant surroundings with a view.
The BarBarossa
The new bar to meet up at. Guests from far away – locals – friends – artists meet BarBarossa for conversation and to enjoy each other's company. Our bar manager creates alcoholic and non-alcoholic drinks and cocktails tailored to your personal preference.
The LiterArt – library
The library offers not only a selection of exquisite literary works but is also the stage for inspiring events.
With jazz concerts, quiet music played on the Bechstein grand piano, and philosophical lectures, the LiterArt stands for both relaxation and lively inspiration.
Experiences
Individual weekly program including arts and events
Regular concerts ranging from classical to Jazz and Dancing music
Readings, philosophical lectures, art openings, and special exhibitions
Library with inviting books and magazines
Hotel-arranged indoor and outdoor sports events, such as guided hikes, yoga, and aqua fitness
Hiking maps available for individual use
Location
Distance to Salzburg city center: 15 minutes
Distance to Salzburg airport: 20 minutes
Distance to Munich airport: 1.5 hours away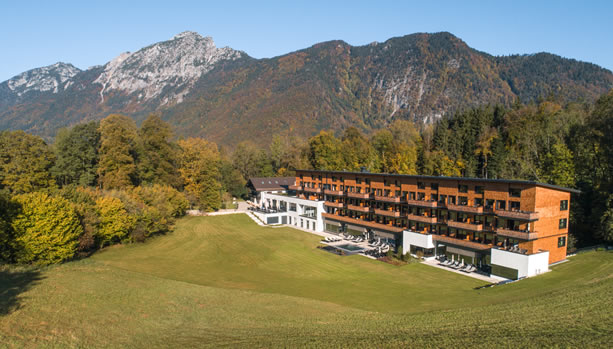 Klosterhof – Alpine Hideaway & Spa
Steilhofweg 19
83457 Bayerisch Gmain
Germany