Bavaria Babymoon Offer

5 nights in the room category of your choice
All the conveniences of the "So Much Included" services
Including König Ludwig Indulgence Half-Board
Wellness service with the loan of a bag, bath towels and bathrobe plus bath slippers
Including the 3-day "Mum, Dad, us" treatment for couples* – enjoy all the treatments as a couple
FIRST DAY For both: Listen to the gentle whisper of the ear candles and enjoy the liberating feeling of a clear head after a feel-good head and neck massage.
SECOND DAY: for mum-to-be Pregnancy relaxation massage – This gentle top to toe massage will deeply relax you and your baby and care for your skin with selected oils
for dad-to-be Aromatic oil massage – Gentle whole-body massage with an aromatic oil blend of your choice.
THIRD DAY: For both: Back and neck massage with hot stones – The synergy of powerful massage strokes and hot stones provides a gentle but effective easing of aches and tensions in the back and neck area.
Rates & Benefits are subject to change and availability at any time.
Babymoon Package rates start from €2,361
Why Book With Us?
GET A NON-BINDING PRICE QUOTE
directly from our Luxury Travel Consultant at 360 Private Travel

choose your travel dates to receive babymoon offer rates

König Ludwig Wellness & Spa Resort
---
Celebrate your Pregnancy and treat yourselves to a wellness retreat in Bavaria
Terms & Conditions
Valid year-round
Q&A
About the Hotel
The König Ludwig Wellness & Spa Resort is an impressively located hotel in Schwangau near Füssen, the village of the royal castles of Neuschwanstein and Hohenschwangau.
---
Accommodations
No matter which dream room you decide on, they are all beautiful, modern and light, decorated with local woods plus elegant colours and fabrics. Cosy and lovingly designed – definitely no chance of homesickness!
Ludwig Spa
A homage to the fairy-tale king! Integrated into the generously designed Schwanensee grounds is the Ludwig SPA, covering more than 4,500 square metres and with 15 bathing, sweat and relaxation attractions.
Immerse yourself in this special atmosphere of colour, light, water and warmth. Let yourself be enchanted by the view of the beautiful Allgäu landscape and embark on a journey of discovery to see how King Ludwig's passions are reflected in the design of the whole wellness area.
The Schwanenbad
Relax in the generously sized panoramic indoor pool with an area of 160 m2 of water in the midst of the Schwanensee lake. Air bubble couches, neck massage flow, underwater massages and a current channel provide enlivening, sensual moments. A convenient entry leads you outdoors into the sports pool, heated all year round.
Sports Pool
Swim in the midst of nature and enjoy the panoramic views of the Allgäu mountain world and of the Hohe Schloss of Füssen. Available for your well-being is the neck flow, the whole-body underwater massage lane, bubble boards and a bench with panoramic views and massage jets. The sports pool, heated all year round, is 20 metres long and offers 175 m2 of swimming fun, surrounded by the Schwanensee lake.
Dining
The way to your loved one's heart may well be through the stomach, and your soul feels it too. Here, everything tastes great and it still does your body good.
The chef de cuisine will conjure the finest regional, light and healthy delicacies and pamper your palate with special pleasures.
König Ludwig Indulgence Cuisine
Healthy vegetarian cuisine
König Ludwig Light, the calorie-conscious natural cuisine
Lilien Lounge & Bar by the Lake with Show Kitchen
Since the end of August, Hotel König Ludwig offers small but exquisite à la carte dishes in their recently opened show kitchen! Every day, you can watch your favourite dishes being prepared and almost certainly tempt the chef to provide you with a kitchen secret or two.
The food involves signature dishes of the König Ludwig kitchen: mainly regional produce, arranged and served with loving detail. Classics such as the club sandwich or Caesar salad are menu essentials, as are fresh pasta or sweet dishes such as Kaiserschmarren (pancake-style dessert) or Palatschinken (crêpes).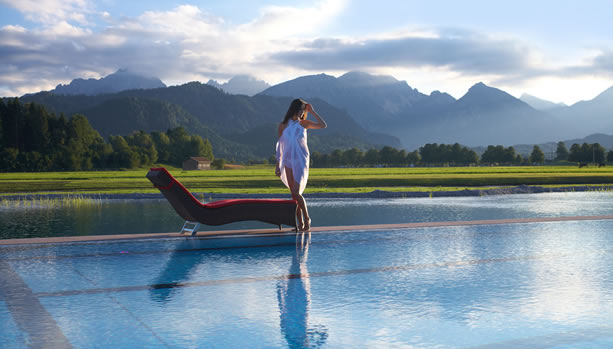 König Ludwig Wellness & Spa Resort
Kreuzweg 15
D-87645 Schwangau, Germany