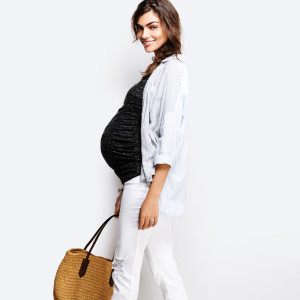 Through April 16th, receive free shipping with $75 at Motherhood Maternity®, free shipping with $100 at Destination Maternity®, and free shipping with $150 at A Pea in the Pod®!
A Pea in the Pod code : APRIL16PEA
Motherhood Maternity code : APRIL15MH
Destination Maternity code : APRIL15DM
Free Shipping at Motherhood Maternity on orders over $75. Use code APRIL16MH. Valid 4/1-4/16. Shop Now!
Free Shipping at A Pea in the Pod on orders over $150. Use code APRIL16PEA. Valid 4/1-4/16. Shop Now!
Free Shipping at Destination Maternity on orders over $100. Use code APRIL16DM. Valid 4/1-4/16. Shop Now!
Destination Maternity Corporation is the world's largest designer and retailer of maternity apparel.
Celebrating expectant mom's inner beauty. At Destination Maternity, they believe that moms-to-be have an important job, one that demands pure selflessness. That's why they are so passionate about showering them with the attention they rarely give themselves, helping their inner beauty shine with chic brands.
A Pea in the Pod®: From sophisticated luxury to fun casual looks,
A Pea in the Pod® offers the mom-to-be exceptional contemporary pieces that reflect her uncompromising sense of style. Free-spirited and original, classic and modern… A Pea in the Pod® is maternity redefined.
A Pea in the Pod Collection™ is the maternity luxury line within
A Pea in the Pod®, featuring a selection of extraordinary styles along with exclusive designer labels. Exquisite details and luxurious fabrics combine to complement the true beauty of the expectant mother. It's the art of maternity™.
Motherhood® Maternity offers a complete selection of the latest fashions at amazing low prices. From sexy and sophisticated to bold and beautiful, Motherhood® Maternity has everything the mom-to-be could ever want or need at the lowest prices around.
Motherhood Nursingwear® features a fantastic line of fashionable nursing tops and dresses suited to all your needs. If you are at home or on the go, our nursingwear will provide you with the ease and security you need to feel absolutely comfortable breastfeeding your baby.
Destination Maternity® is the ultimate maternity superstore. The huge selection of fashion offers all three brands, plus skincare, fitness, and nutritional products to pamper the pregnant woman – even classes to condition the mind and body.
Oh Baby by Motherhood™ is the exclusive maternity apparel designed and sourced for Kohl's department stores. The collection features a modern and complete assortment of sportswear, intimate apparel and sleepwear.