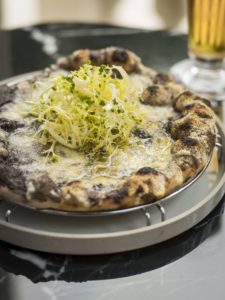 A Jean-Georges takeaway pizza? Yes, really, and it's topped with black truffle and fontina cheese and tucked into a box with a jovial illustration on the front.
It's all part of the informal gourmet dining experience now to be found at Jean-Georges at The Connaught, the hotel's neighbourhood restaurant. Expect eclectic imaginative menus with signature Jean-Georges wit, humour and flavour.
ABOUT JEAN-GEORGES
Jean-Georges at The Connaught, created by world-renowned chef Jean-Georges Vongerichten, is a meeting place for both guests and The Connaught's neighbourhood. It overlooks fashionable Mount Street, in the heart of Mayfair, and offers informal gourmet dining, all-hours, in a relaxed, contemporary setting. Breakfast, lunch, afternoon tea and dinner are all served here, along with a carefully-curated menu of tasty cocktails; and their extensive wine list is drawn from The Connaught's 6,000-bottle cellar.
Expecting a baby and looking for a babymoon in London? then head to London's chic Mayfair at stay at the five star The Connaught. The Connaught occupies a quiet corner in the heart of Mayfair Village – one of the most exclusive and fashionable districts of London and with Oxford Street, the West End and the airports all easily accessible, The Connaught is the perfect London base for your babymoon. Over the years their spectacular service, exquisite restaurants and unparalleled facilities have received many awards.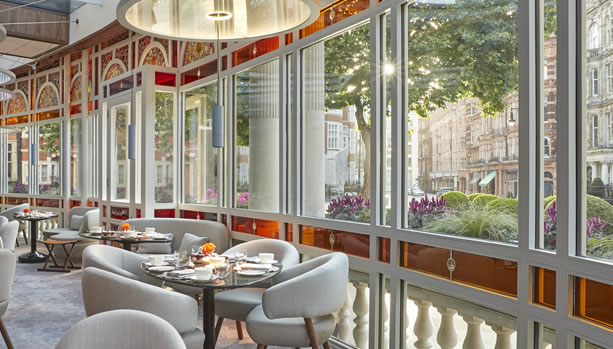 BABYMOON PACKAGE THE CONNAUGHT
Expect breathtaking luxury hotel suites from some of the world's best designers; Michelin-starred cuisine from Hélène Darroze and Jean-Georges at The Connaught; pampering and wellness at the luxury Aman Spa, and Afternoon Tea at the Coburg Bar.
The Connaught, London created a blissful babymoon experience for expecting couples :
Babymoon London Package, including :
Luxurious Accommodations
Daily English Breakfast for two
Late check-out until 2 pm
'Nurturing New Life for Pregnancy' at Aman Spa, a selection of choices       
Nurture, Mother-to-be Spa Treatment – 1 hour 30 minutes, Soothing foot soak, gentle body exfoliation, relaxing massage and refreshing facial boost

Uplift, Mother-to-be Spa Treatment – 45 minutes, Supporting Massage for specific areas such as aching backs and heavy legs

Pre-Natal Reflexology – 90 minutes with 45  minutes follow-up consultations, addresses the more commonly associated pregnancy discomforts such as sore feet, swelling, backache
and heartburn. Customised for each trimester, provides a health boost to the foetal environment during pregnancy.
Valid until April 1st, 2018